Being 1/4 Irish, I always have to wear a little green on St. Pats day. But, surprisingly, I've NEVER HAD Corned Beef and Cabbage.. so I looked it up and am making it this weekend! Here are some interesting facts about Corned Beef...
Corned beef is a preparation in which a cut of beef, usually the
brisket
, is cured in a brine solution along with various seasonings, and then slowly simmered until cooked.
Corned beef can also be made from the
beef round
primal cut. Both the round and the brisket are relatively tough cuts of meat that are best cooked by slow, moist-heat cooking. A good corned beef is quite tender with a delicious salty flavor.
The brine for making corned beef is similar to the brine used for making pickles. Thus, it's fair to say that corned beef is essentially pickled beef.
One of the key ingredients in making corned beef is a curing salt called
prague powder
, which is what gives the corned beef its distinctive pink color.
To "corn" something is simply to preserve it in a salty brine (the term corn refers to the coarse grains of salt used for curing). In the days before refrigeration, corning was essential for storing meat, especially from large animals like cows. Historically, beef that was slaughtered and corned before the winter was served with the first fresh spring cabbage to break the Lenten fast on Easter.


Read More http://www.epicurious.com/articlesguides/holidays/stpatricks/corned_beef_and_cabbage_recipe#ixzz2Ng53TPcw
And here's a recipe...
Ingredients
One 3-pound corned beef brisket (uncooked), in brine
16 cups cold water
2 bay leaves
2 teaspoons black peppercorns
4 whole allspice berries
2 whole cloves
1/2 large head green cabbage (about 2 pounds), cut into 8 thick wedges
8 small new potatoes (about 1 1/4 pounds), halved
Freshly ground black pepper to taste
Serving suggestion: Whole-grain mustard or horseradish sauce (recipe follows)
Directions
Preheat the oven to 300 degrees F.
Place the corned beef in a colander in the sink and rinse well under cold running water.
Place the corned beef in a large Dutch oven with a tight-fitting lid, add the water, bay leaves, peppercorns, allspice and cloves. Bring to a boil, uncovered, and skim off any scum that rises to the surface. Cover and transfer pan to the oven, and braise until very tender, about 3 hours and 45 minutes.
Transfer the corned beef to a cutting board and cover tightly with foil to keep warm. Add the cabbage and potatoes to the cooking liquid and bring to a boil. Lower the heat and simmer until the vegetables are tender, about 20 minutes.
Using a slotted spoon, transfer the cabbage to a large platter. Slice the corned beef across the grain of the meat into thin slices. Lay the slices over the cabbage and surround it with the potatoes. Ladle some of the hot cooking liquid over the corned beef and season with pepper. Serve immediately with the mustard or horseradish sauce.
Horseradish Sauce:
3/4 cup mayonnaise
3/4 cup sour cream
1/4 cup plus 2 tablespoons jarred grated horseradish (with liquid)
1/2 teaspoon grated lemon zest
2 teaspoons kosher salt
Freshly ground black pepper
In a small bowl, mix together the mayonnaise, sour cream, horseradish, zest, and 2 teaspoons salt. Season generously with pepper to taste. Refrigerate the horseradish sauce for at least 30 minutes before serving.
Read more at: http://www.foodnetwork.com/recipes/corned-beef-and-cabbage-recipe/index.html?oc=linkback
If you're looking to SPEND a little "green", try browsing at onlineauction.com! Start with this beautiful Gold and EMERALD necklace from j7339!
Got an owie? Try a soothing Boo-Boo rice bag from American-Hippie
How about a sparkling dark green genuine 3+ carat Tourmaline?? From
judyb84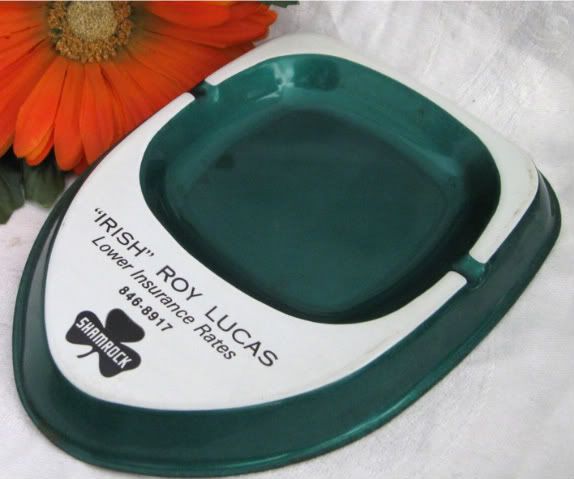 Here's a nifty, and unusual, ashtray from
Supergranny!