I think everybody loves to experience indulgence, whether it be by shoe shopping, putting butter AND sour cream on our baked potato, or indulging in our once a year dry martini. Here's a sense of indulgence we all would probably enjoy......a Mocha Caramel.....featuring sumptuous mocha swirled with buttery caramel. Both are complemented by an undertone of Paul Masson Grande Amber VS Brandy to complete the smooth and flavorful experience.
Cream liqueurs are most popularly consumed over ice, but are also delicious mixed into coffee or poured over ice cream. Guess what I've found that would complement a $5-6.00 small bottle of this heavenly Paul Masson Mocha Caramel Brandy? A pair of genuine Paul Masson mini cups that start at only $2.00.
CLICK HERE to see the details.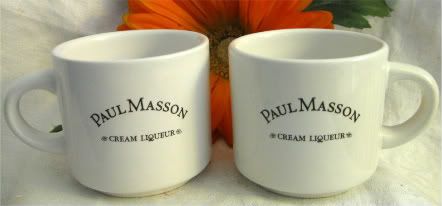 Think about it....a very nice Christmas, Birthday, Congratulations, Etc gift for under $10.00. Take a few moments to browse all my tobacciana, advertising, collectibles, etc at
Supergrannys Treasures
This is my invitation to you to visit my blog...
CLICK HERE to Read Supergrannys Musings
This is just one of thousands of ideas you can find at
Online Auction