What is Hot for 2010?
Buttons
Pin Back Buttons, Glass Buttons, Plastic
Buttons, Metal Buttons, Tiny Buttons, Big Buttons!
All Sizes and Shapes of Buttons are Exciting
and New.
All are Button-licious!
And, best, and most important, Most Buttons
are AFFORDABLY Priced!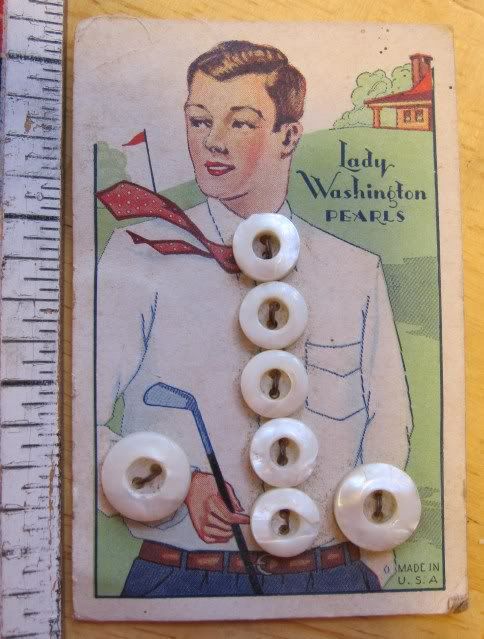 Buttons on Cards with GREAT Graphics can be
had for Framing...
Buttons make super gifts, too!
And, are terrific cross-collectibles, like the
Vintage Golf Lady Washington Mother-of-Pearl buttons featured in the picture above. It is
not too early to think of Father's Day, or Birthday Gifts for this year, you know!
BIG BRASS Buttons for those Felting Craft
projects! Handbags, Shawls, or Sweaters...
Guaranteed Vintage!
Check my Auctions on OLA for MORE BUTTONS.
I have been an avid Button Collector for my
entire life, and I am selling my entire collection this spring.
I have thousands! Celluloid, and more.
More to come about Buttons!
Button, Button, Who's Got the
Button?
I do!
You CAN TOO!
Come Get them NOW!
Classic_ Chloe