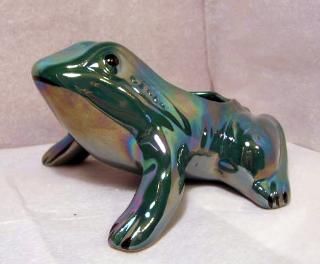 It's time to get back to work! I took an extended holiday... been lazing about since Thanksgiving! But I'm back and reducing prices, re-listing treasures, revamping the store, and researching new product.
The first to be featured is this lovely Ceramic Frog Planter in Iridescent Turquoise. I acquired it from a vintage collectibles dealer at a flea market in Iowa, with my good friend and fellow
OLA
seller,
DraggonTagger
. I don't have much history on it, but as you can see, it is just the cutest little planter ever. It's got the most striking colors! (Almost like a piece of Carnival Glass.)
The price has been reduced to only $9 and I'll ship it to you at the exact cost for USPS Priority Mail. All the details are in the listing.
Click here -->
I want more info on this Ceramic Frog Planter in Iridescent Turquoise!
And don't forget to browse more vintage collectibles at
Fleapirates Plunder
!