It's official! The OLA Team Blog Challenge has begun! What are we up to, you wonder? Well, for the entire month of November,
FleaPirates
, (that's me), is pledging to make a daily blog post on this blog... and I have challenged OLA members to keep pace with me!
This is going to be a riot! Imagine this... heading into the Holiday Season you've got a whole team of fantastic folks, from all across the USA, ready to offer up tips, advice, recipes, stories, great deals, special sales, funny ha-has, and more!
Now
they're
working towards winning a prize, but the prize for
you
will be staying in the loop with all that is going on at
OnlineAuction.com
lately! So stay tuned, because I am sure it will be both entertaining and enlightening!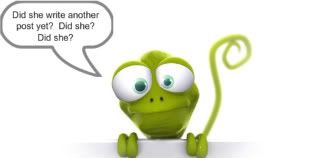 This blog will be rockin' in November! You won't want to miss anything, so check in daily and don't forget to leave us a comment or two! On the sidebar to the right you'll find a place to subscribe... we'd love to gain more loyal followers. (Hint, hint!)
All of the items featured for sale in this blog will be available for purchase at OLA... like this one, from me! A perfect holiday gift for a special youngster in your life!
On Christmas Eve, when Santa Claus learns that all his reindeer have run away, he finds the solution to his problem and a new best friend in a tough, little Australian "red heeler", a herding dog named Cuddles. Written entirely in verse, this delightful story can be read to a child, read by a child, or read along with the accompanying CD, narrated by the author, with music by Larry Novak and performed by internationally acclaimed piano stylist Emile Pandolfi.
A big thanks to our participants!
Good luck and happy posting!
Ready... Set... Go!