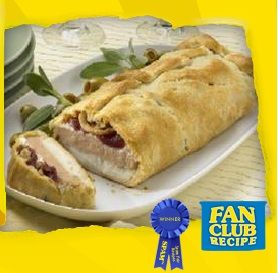 Darn, I should have posted this
last
week!
Just found a fabulous little recipe for all you S
pam
lovers out there. Did you know that the Spam Website is jam packed full of recipes, information, games, and products?
Go check it out!
Here is the Spam Recipe for
Spamsgiving Day Delight
, which I know you are all dying to try!
Ingredients
1 cup prepared instant mashed potatoes or refrigerated mashed potatoes
1 (12-ounce) can SPAM® Oven Roasted Turkey
1 (10.1-ounce) can refrigerated crescent roll dough
4 ounces cream cheese, softened
1/2 (8-ounce) can jellied cranberry sauce
3/4 cup French-fried onions
Ground sage
Green olives
Directions
Heat oven to 375°F.
Cut SPAM® Oven Roasted Turkey into 1/2-inch-thick slices.
On nonstick baking sheet, roll out dough to large rectangle; pinch perforations together.
Spread potatoes over dough, leaving 2-inch border. Layer with SPAM®, overlapping each slice by about 1/2 inch; top with cream cheese. Slice cranberry sauce into 1/4-inch disks; place over cream cheese. Sprinkle sage and French-fried onions over cranberry layer.
Fold dough over filling; crimp edges to seal. Bake 18 to 20 minutes or until golden brown. Garnish with olives, if desired.
Notes
Any SPAM® variety works well in this recipe.
White you're enjoying your delectable creation, head on over to
FleaPirates Plunder
and take a peek at this adorable
Spam Can Hinged Trinket Box Hormel Foods!
Now is definitely the time to shop the great sales and bargains at OnlineAuction.com!