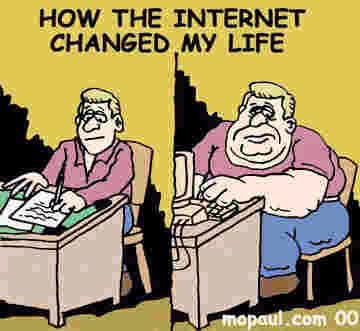 Nine out of ten people reading this blog are sitting down. How long have
you
been in that chair today? It is so easy to lose track of time! Inactivity due to your computer activities can cause all sorts of health issues... from
Restless Leg Syndrome
, to
Carpal Tunnel Syndrome,
even adding to concerns about weight gain and arthritis.
One way to combat these issues is to take regular breaks. Just getting up and walking for a few minutes helps... just be sure you're not
walking
to the refrigerator! If you can add some moderate exercise into your breaks, the benefits increase dramatically. Get moving!
I read an interesting article not long ago about
5 Moves For Flat Abs Fast
. I am not too sure my body is going to reach all those positions, but heck, the point is to find the time and try!
Another easy and fun way to exercise is to just put on some
peppy
music and dance! No equipment required... just turn it on, turn it up, turn it loose! (My doctor thinks this is absolutely as good as any cardio workout. The important thing is to keep your heart rate up.)
With the season of cold weather, snow and ice approaching it may be daunting to think of going outside to walk or bicycle. Cosmopolitan has a few ideas on how to
Burn Calories At Your Desk.
And over at
OnlineAuction.com
, you can find plenty of ideas to get your body moving!
Quick Yoga Training
Nintendo DS

From FleaPirates
Image 19.0 R Treadmill

From Gems242
PILATES - BODYCIRCLES WORKOUT VHS

From Plusizeglamor
Used Jane Fonda's Exercize Workout Book

From Vermonter53