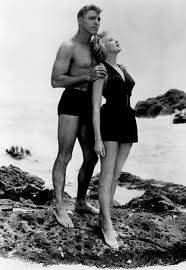 From making love with Burt Lancaster on a Hawaii beach in
From Here To Eternity
, to waltzing with Yul Brynner in
The King and I
, to generating laughs with Frank Sinatra and Dean Martin in
Marriage on the Rocks
, this leading lady led an exciting life. Today I am remembering Deborah Kerr.
Of Scottish descent, her last name, Kerr, is pronounced "car". It was mispronounced so often that MGM Studios began billing her as,
"Kerr rhymes with star!"
Deborah Kerr was married twice. Her first marriage was to Royal Air Force Squadron Leader Anthony Bartley. This marriage lasted 14 years. Her second marriage was to author Peter Viertel and this union lasted until her death in 2007. Coincidentally, just 3 weeks after Deborah died, a victim of Parkinson's Disease, her husband Peter died, as well, from his bout with Cancer.
There were rumors of off-screen romances between Deborah and both Burt Lancaster and Stewart Granger, although there are no facts to corroborate either of the actor's claims.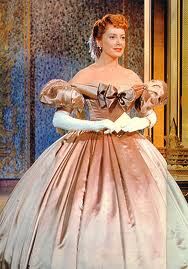 Deborah Kerr was nominated 6 times for Academy Awards for Best Actress. Those nominations were for her work in the following films:
Edward, My Son
(1949),
From Here to Eternity
(1953),
The King and I
(1956),
Heaven Knows, Mr. Allison
(1957),
Separate Tables
(1958) and
The Sundowners
(1960).
If you haven't yet had the opportunity to see one of Deborah Kerr's fabulous movies, I would suggest you start with my favorite,
The King and I
, pictured here.
And to read more about this fascinating actress, I am offering at
FleaPirates Plunder
the following vintage issue of
Architectural Digest December 1979 which highlights a visit and interview with Deborah Kerr.