I just want to let all you shoppers know that the only place in Manzanola, Colorado, that you can get an ashtray from Uruguay without traveling there is at
Supergrannys Treasures
Supergrannys Treasures
is a small Collectible Boutique offering Advertising, Ashtrays, Tobacciana items at very very fair prices.
The thing to remember is with the demise of smoking, ashtrays and advertising tobacciana items are rarely being made any more and they will, one day soon, become a hot collectible and will become increasingly rare. Add to or start your collection today. From retro days gone by when almost every home, kitchen table, desk, or place of business had ashtrays sitting around for their employees and customers.
Remember imperfections on vintage ashtrays are not unusual and can be expected as they were heavily used.
Back to my opening sentence "Get Your Uruguay Ashtray Here!".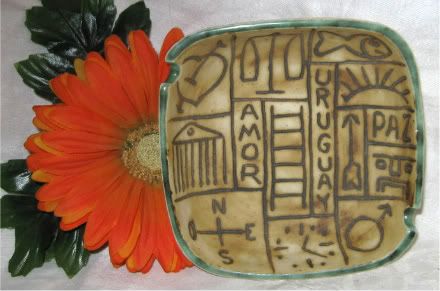 The words on the ashtray are love, Uruguay, peace. Uruguay as a whole country only has approx 3.5 million citizens. They love their beef...they have lots of grassland to feed the cattle. Doesn't this look like a newly purchased ashtray? It's not, I've had it for many years.
CLICK HERE to View this Item
There are tens of sellers having specials for a special two day event....Cyber Monday...
CLICK HERE for Online Auction