Collecting Tobacciana, or smoking paraphernalia, has been growing and while most items are still readily accessible at garage sales, second hand stores and flea markets, there are many long discontinued Smoking Collectibles that are hard to find. The most popular collectibles today in this category include the early Advertisments both on and off the products, Novelty items, Gambling and Casino, Gold and Sterling plated items, limited production items such as Commemorative and Political items, and certainly anything marked "Occupied Japan" which was manufactured only from 1945 to 1953.
Here is an example:
CLICK HERE to View this Ashtray
Visit
Supergrannys Treasures
to browse and shop!
Remember when every home and place of business had ashtrays of one kind or another sitting around? The neighborhood garage had ashtrays, the neighborhood market had ashtrays and often times the larger markets had ashtrays hooked to shelves. Go out to dinner at a very fine restaurant and you will find ashtrays on the tables, restrooms had ashtrays. Ashtrays and advertisements were just everywhere, even rolled up in the guys shirt sleeve. Those days are gone.
With the demise of smoking, ashtrays and advertising tobacciana items are rarely being made any more and they will become a hot collectible. Add to or start your collection today.
EX-SMOKERS, HOLD ON TO YOUR SMOKING COLLECTIBLES
When you quit smoking, keep your tobacciana collectibles. Tobacco stands without the top parts are good plant stands. Cigarette cases are popular as small purses that will hold a credit card, driver's license and a little money.
Tobacco tins and boxes are interesting storage containers, and the box labels and cigar bands work well for decoupage projects.
Best of all, ashtrays can be used to hold short stemmed flowers or kept in the bedroom to hold earrings and rings overnight. Tobacco tins make a great place to store playing cards.
A very classy Hotel Statler Ashtray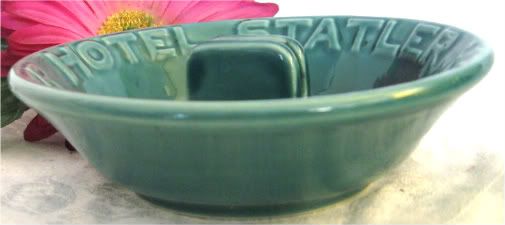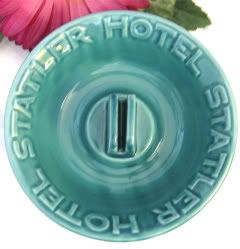 If you are a collector, visit
Supergrannys Treasures
.
There are hundreds of folks with listings for homes and property for sale to $.25 bargain items. Take some time and browse.
CLICK HERE for Online Auction